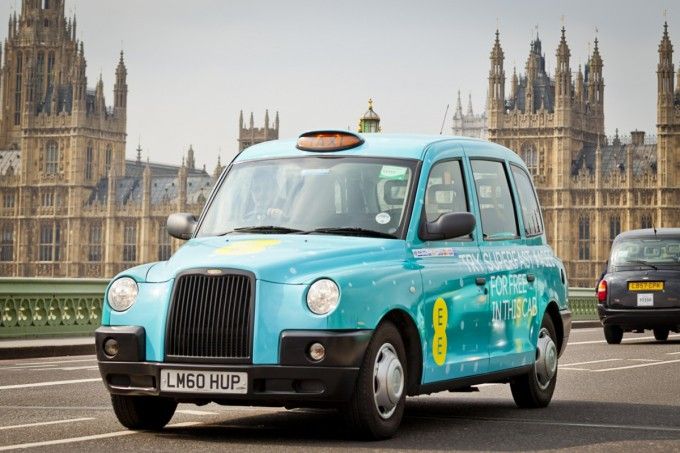 So your out and about in London on your day off, but your boss calls anyway and asks you to log onto your work desktop and fix his mistakes, what to do? There are two answers to this question: A. Tell him to shove him to shove his job were the sun don't shine. Or B. Take it on the chin and try to find a public WiFi connection.
One option is to hit the underground for an hour, but if you find yourself out of range of an underground or café or static hotspot; then you can hop on board the UK's only LTE network brought to you by EE. EE have 40 Black Cabs that have been rigged with 4G WiFi routers. This cracking idea has already been looked at by Vodafone who weren't very successful due to the poor signal strength given by their devices.
There will also be 10 of these cabs in the Birmingham area, but the difference between these and the London cabs will be that they are covered in the turquoise livery of the EE franchise.
Unfortunately the service is only due to be in effect for the next 3 months. If you get a chance to test it out, let us know how well it performed.
EE Press Release:
ICONIC BLACK CABS GET 4G MAKE-OVER TO BECOME UK'S 'FASTEST' TAXIS
Fleet of traditional hackney carriages to offer free mobile 4G to passengers across London and Birmingham courtesy of EE.
From Tuesday 2nd April, commuters in London and Birmingham can hitch a superfast ride in the 4GEE Taxis – the UK's first ever fleet of 4G enabled hackney carriages. Even if stuck in rush hour traffic, passengers will experience a super-speedy journey thanks to free mobile 4G from EE, as Britain's only superfast 4G network brings the latest in communications technology to this unique fleet of taxis.
The traditional hackney cab has long been a part of the UK's transport history and now 50 of these iconic vehicles are making history of their own. Each car has been given a hi-tech makeover and fitted with a state-of-the-art MiFi wireless router that acts as a mobile 4G hotspot connecting the cabs to the UK's only superfast 4G network.
Every day over 200,000 black cab journeys are taken across London[1] alone and over 40% of smartphone users across London and Birmingham say they have been late for a meeting while in stuck in traffic. However, 1 in 5 commuters said it would make their day less stressful if they had access to the internet whilst travelling in a taxi. By fitting a fleet of 50 taxicabs with superfast 4G, EE hopes that passengers will see the time-saving benefits of using its 4G network on the go.
Spencer McHugh, Director of Brand, EE said: "The first motorised black cabs hit the streets in 1901, nearly 70 years before the first smartphone was available to consumers, now we are bringing this icon of British transport into the 21st century with a 4G make-over. We hope this trial will demonstrate the benefits of a superior online experience as users can browse, download, catch up on emails, Tweet and check Facebook literally at the speed of light. We can't make taxi journeys any faster but we can certainly speed up people's smartphones!"
The free 4G service will be available for three months with 40 traditional Hackney carriages in London and 10 in Birmingham decked out with the state-of-the-art technology.
For more information on EE, please visit www.ee.co.uk.
Follow us on Facebook, Twitter and Google+ for a chance to win one of our awesome competitions.
The following two tabs change content below.
I joined Beginners Tech as a Technical Journalist in July 2012 and have never looked back. I love tech, gadgets, games and electronics; whether they are retro, current or future concepts. My loving fiancé Sarah has said that when I receive new items for review I'm like a kid in a toy shop – unable to leave it alone for two minutes! Coming from a design background, I am passionate about the design and aesthetics of tech as well as functionality.
Latest posts by Jonny Polea (see all)