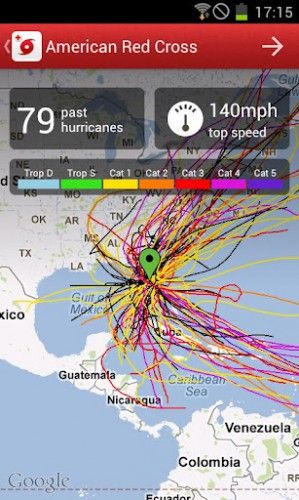 It seems that the American Red Cross will stop at nothing to ensure there Aid reaches those who need it. A few months ago they realeased thier First Aid app that details simple walk through methods for medical emergencies, now they have reached there hurricane app.
The new App is great it educates people to ensure there knowledge is up to scratch with quizzes and provides checklists and instructions on how to assemble an emergency kit should the worst scenario arise. The part we think is really good is the hurricane monitor where you can see projected paths and also where the nearest shelters are.
The Red Cross seem to understand how much of an influence social media is these days and they have implemented it into this App with thier "I'm Safe" feature allowing you to share information with everyone on Facebook and Twitter. If you are having a bad day and get caught in the middle of it all there's a handy built in torch and strobe function to.
Overall if you are in areas that are effected by hurricane's you would be crazy not to download this App and give it a try and please share this with all your family and friends.
Source – Google Play
The following two tabs change content below.
BeginnersTech was an idea I had one Sunday when I was bored. It is now not only a website but a successful YouTube channel that takes me all over the world. Don't ever let anyone discourage you. Chase those dreams.
Latest posts by Ryan Oneill (see all)