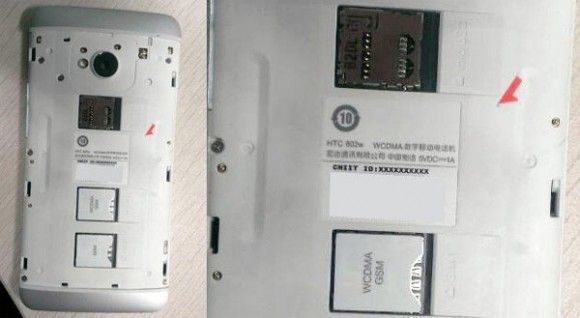 The HTC One handset is gorgeous and there are a lot of folk out there looking forward to getting their hands on it. One thing that some readers have pointed out about the new smartphone is the fact that it lacks storage expansion in the form of an microSD card slot. As it turns out HTC are offering a version of the HTC One in China with a few extra features that will make some users jealous.
It's common for smartphone manufacturers to offer multiple versions of any particular device specifically to suit different carriers. In the US this commonly happens with versions of a new smartphone for AT&T, Verizon, and T-Mobile. The same thing is happening in China with China Unicom, China Mobile, and China Telecom each getting their own version of the HTC One.
Some images of the HTC One 802W have turned up online showing this particular device has a few hardware features that are apparently exclusive to China. Those features include a pair of SIM card slots and a memory card slot. While most people can live without that extra SIM slot, the fact that the Chinese version of this phone gets a microSD card slot will irritate some people.
The SIM card slots and the memory card slot are hidden underneath a removable back cover for the Chinese version of the phone. The European version of the smartphone has only a single SIM card slot and the back cover is not removable. There's no word on whether or not any of the hardware specifications have changed in the Chinese version of the smartphone.
But there is always the option of getting your hands on one of the Chinese versions and having it unlocked for use in the U.K. and America etc. I love the thought of the delicately milled aluminium uni-body so having a removable rear section is something that I would have to think about. To be totally honest, I believe 32gb is plenty for a smart phone, if you start you run out of space then toss some of your vids, pics or docs etc into dropbox, cloud or photobucket to free up some space.
Let us know your thoughts.
Follow us on Facebook, Twitter and Google+ for a chance to win one of our awesome competitions.
Source: Engadget
The following two tabs change content below.
I joined Beginners Tech as a Technical Journalist in July 2012 and have never looked back. I love tech, gadgets, games and electronics; whether they are retro, current or future concepts. My loving fiancé Sarah has said that when I receive new items for review I'm like a kid in a toy shop – unable to leave it alone for two minutes! Coming from a design background, I am passionate about the design and aesthetics of tech as well as functionality.
Latest posts by Jonny Polea (see all)