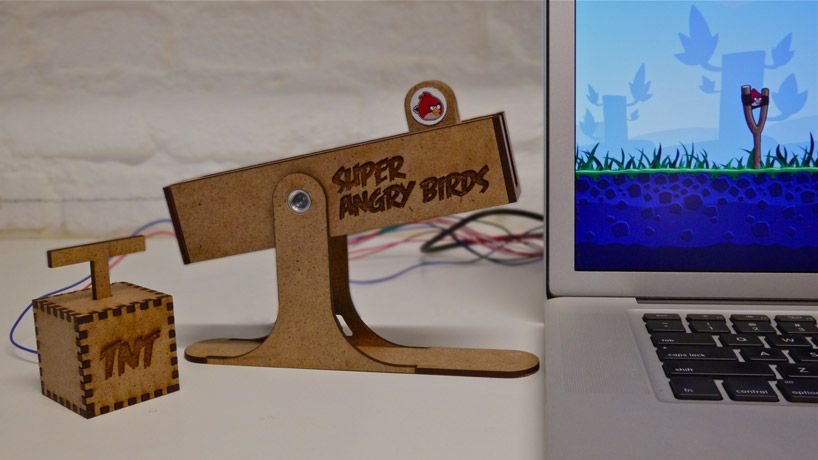 So your sitting on a three hour train journey, and the kids that are not being kept in line by their parents are starting to grate on your nerves. What do you do? You pull out your mobile phone or tablet and crack open a few apps. One of our favourites is Angry Birds, it keeps the synapses firing when your ready to pass out with boredom. So when we heard about this awesome creation we had to check it out.
It's hard to believe it's almost been three years since Rovio first released its Angry Birds mobile game. Whether you're still playing it or not, it seems like the Angry Birds brand has crawled into just about every corner of the world now. Earlier this year, the company celebrated the release of Angry Birds: Space with a giant sling shot monument.
Now, design students Andrew Spitz and Hideaki Matsui from the Copenhagen Institute of Interaction Design have created their own Angry Birds slingshot. Simply called Super Angry Birds, the device is a force feedback USB controller made using an Arduino-based microcontroller. Since playing Angry Birds with a mouse isn't nearly as satisfying as it is on a tablet, the controller lets users fling their angry birds in style.
Super Angry Birds Slingshot
Since the controller alone wasn't awesome enough for them, the designer duo also decided to create a miniature TNT detonator used to activate the special ability of certain birds. But as fun as this may look, the designers probably won't be mass producing them anytime soon if ever, so you'll just have to head on over to the project page to figure out how you can create your own.
By Jonny Polea
Hit us up on facebook and Twitter with your favourite game apps and what games you would like to see custom controllers made for.
The following two tabs change content below.
I joined Beginners Tech as a Technical Journalist in July 2012 and have never looked back. I love tech, gadgets, games and electronics; whether they are retro, current or future concepts. My loving fiancé Sarah has said that when I receive new items for review I'm like a kid in a toy shop – unable to leave it alone for two minutes! Coming from a design background, I am passionate about the design and aesthetics of tech as well as functionality.
Latest posts by Jonny Polea (see all)