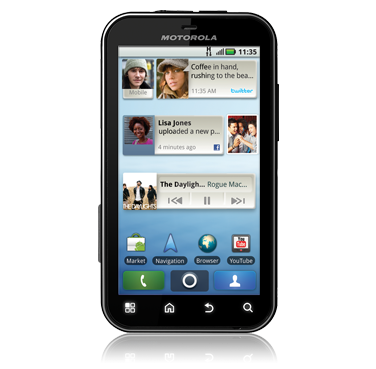 So I was away visiting relatives in Liverpool at the weekend when I came across my most annoying root dilemma yet. My Godsons dad has the Motorola Defy and wanted me to Root it so that it would run faster. So after trolling the Internet and trying various tutorials i was almost ready for cracking. Sure we could root but the tutorials were far from beginner friendly so I decided first thing I would do when i get home is right one up for you guys.
DISCLAIMER – As usual I am not responsible if you damage your device following the tutorial so follow at your own risk
Please note that it's pretty near impossible to totally brick your Defy as it has a locked boot loader and when i tried to brick it a few times it was always easily recoverable. With that said there's a few things your going to want to download before we begin.
This tutorial is for windows only
DOWNLOADS – 
Defy USB drivers (May not need but get them)
Tutorial
Turn on USB Debugging on your device (Setting's > Development > Tick USB Debugging)
Connect your Defy to your PC using the USB cable
Right click on the SuperOneClick.exe and run as Administrator
Now just click ROOT and wait. DO NOT TOUCH OR UNPLUG YOUR DEVICE
You will get a prompt asking if you would like BusyBox installed click YES
When finished it will ask if you would like to make a donation (consider this)
That's it reboot your device and your Rooted. You will have the SuperUser APP
Download an App that requires root to make sure all is well (Titanium Backup or Root checker will do) when launching you will receive a superuser request.
So now what? Follow my tutorial HERE on how to install custom recovery on Motorola Defy/Defy+
The following two tabs change content below.
I live in Scotland UK and have been blogging about technology for a long time. I started BeginnersTech as I wanted even the total novice to be able to enjoy it as much as I do. If you ever need help or want to ask a question you have come to right place.
Latest posts by Ryan Oneill (see all)