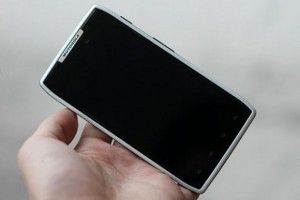 We have another David Vs Golliath story for you kids.
Motorola is working on their next phone in the Droid RAZR line, this one being the Droid RAZR HD which, going by the name, will have a better screen, among other things. In an FCC filing from the Google owned company, the "XT926″ was found to have a 2530mAh battery which is quite the step up from other smartphones currently on the market.
This is great news for users as it's very easy to run down a battery when you have 4G LTE and use your phone a good amount during the day. This happens to be the best stock battery in a phone aside from the Droid RAZR HD's sibling, the RAZR MAXX which features a huge 3300mAh battery.
We don't have a lot of information about the phone yet. Pricing should be around $199 on two year contract. As far as when it will be released, some are saying October, but without any credible sources, it's hard to tell really. The screen will definitely be 720p HD and on par with the best screens currently available on Android devices. For the processor, benchmarks have shown it will have a Snapdragon S4 processor similarly found in the HTC One X and Droid Incredible 4G LTE.
Since Android 4.1 Jelly Bean has been available to manufactures, one would expect the Droid RAZR HD to have it. Lastly, as far as the camera, a leaked photo showed that it was shot with a 13 megapixel camera instead of 8 like what we see with most devices.
Let's hope Motorola are not trying to punch above their weight.
What's your views?
By Jonny Polea
The following two tabs change content below.
I joined Beginners Tech as a Technical Journalist in July 2012 and have never looked back. I love tech, gadgets, games and electronics; whether they are retro, current or future concepts. My loving fiancé Sarah has said that when I receive new items for review I'm like a kid in a toy shop – unable to leave it alone for two minutes! Coming from a design background, I am passionate about the design and aesthetics of tech as well as functionality.
Latest posts by Jonny Polea (see all)