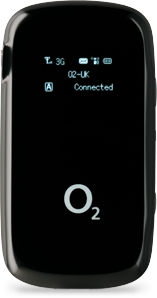 Looks like o2 is ready to join the MiFi like revolution by offering there new product the "Pocket Hotspot". O2 are promising speeds of around 22Mbps and 6Mbps upload which we will presume is if you are in a great 3G coverage area. The new device is coming in at a one off cost of £60 and has some great offers like "Double Data every third TopUp". Here's what O2 has to say about the device.
 Your own personal, portable hotspot. With the O2 Pocket Hotspot you can get online with up to five gadgets, cable-free. It's perfect for sharing the hotspot with other people and you don't need to plug it in to your device, just have it near you. In the park. On the train. In a café. The O2 Pocket Hotspot is your very own wifi hub that's small enough to go where you go.
This looks like a good offering if your mobile operator does not allow you to tether from your mobile device so hit up the source link if your ready to go portable on that Wifi only iPad or Tablet.
Source – O2
The following two tabs change content below.
BeginnersTech was an idea I had one Sunday when I was bored. It is now not only a website but a successful YouTube channel that takes me all over the world. Don't ever let anyone discourage you. Chase those dreams.
Latest posts by Ryan Oneill (see all)