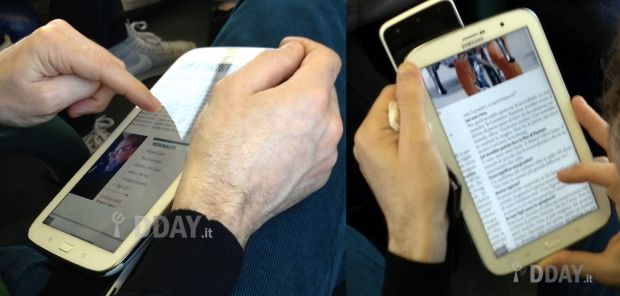 Some amazing leaked photo's have shown up today of the up and coming iPad mini challenger known as the Galaxy Note 8.
These pictures surfaced today from Italian site dday.it. As you can see those lovely rounded edges with the silver highlights look very similar to that of the Galaxy Note 2. On closer inspection the picture on the left side seems to show that famous hidden stylus that the Note range rocks.
If the rumours are true the Note 8 or whatever Samsung choose to name it should be rocking a  1,280×800-pixel resolution screen and a quad-core processor. The specs aren't exactly awesome but as the price wars rage between these mini tablets sacrifices to specification have to be made. Expect to pay in the region of £160-£180.
Company boss JK Shin has already told the world that they will see the Note 8 at the Mobile World Congress trade show in Barcelona, which take's place on the 25th February. No doubt in usual Samsung style a press conference will be held a few days before unveiling more than one new gadget. Don't you just love it?
So maybe this is the new Note 8 or maybe its a fake but as of now its the closest to real we are going to see. Are you looking forward to the release? Let us know on Facebook and Twitter.
All image credit goes to dday.it
The following two tabs change content below.
BeginnersTech was an idea I had one Sunday when I was bored. It is now not only a website but a successful YouTube channel that takes me all over the world. Don't ever let anyone discourage you. Chase those dreams.
Latest posts by Ryan Oneill (see all)