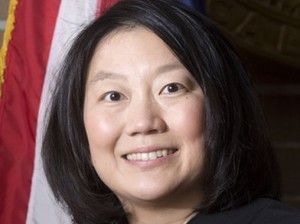 Get your mind around this one Folks.
Judge Lucy Koh
Merriam-Webster defines inexperience as: 1) lack of practical experience and 2) lack of knowledge in the ways of the world. In recent weeks, I suggest that they offer a third definition: 3) the legal representation behind this century's monumental court decisions. The most recent manifestation of this is Judge Lucy Koh. She is presiding in the case of Samsung vs. Apple in California, a back-and-forth sue-fight in which both companies are on the offensive.
In the most recent development of this case, Judge Koh has denied Samsung's request to lengthen the trial in fear of complicating the proceedings. She has limited their exhibits and reduced their time to present their cases to 25 hours. Samsung wanted to double that time and permit unlimited amount of witnesses. Koh, in the epic wisdom granted with an awe-inspiring 2 years on the job as a federal judge, decided to combine Apple's lawsuit against Samsung and Samsung's countersuit against Apple.
Samsung's lawyers, seeing restrictive deadlines on a complex case, simply wanted more time to have an ample case. Koh, becoming frustrated (perhaps near tantrum), claims she was helping Samsung out by pushing both them and Apple into offensive stances in front of a single jury. She blabs on, "If anything, I have bent over backwards so Samsung has an affirmative case. I could have put your case on a later schedule."
I find it very difficult to believe she's helping Samsung. Little Lucy Koh seems to believe she knows a lot more about defending billion dollar technology companies than droves of billion dollar technology company lawyers. I presume these lawyers know patent law inside and out and perhaps even know their defense the same. Keep in mind that Koh has put an injunction on the Tab 10.1 (vaguely understandable) and the Galaxy Nexus. The Nexus? Really!? There are virtually no similarities between any iOS product and the Nexus. It turns out that her beef was with a search related patent related to Siri. Yeah, right, Lucy. I struggle to believe Apple has ANY leg up on search capabilities over Google, the world's preferred search engine.
In multiple cases around the world, Judges and review boards have said these patent disputes are everything from frivolous to anti-competitive. Judge Richard Posner, whose resume puts most Supreme Court judges to shame, dismissed Apple's claims against Motorola entirely stating, "Motorola's desire to sell products that compete with the iPhone is a separate harm – and a perfectly legal one – from any harm caused by patent infringement."
Perhaps when Judge Koh earns the position she's at, develops half the respect and experience of judges like Posner, and dismisses these stupid cases before they begin (not just limit a company's ability to defend itself), she'll be removed from that new moniker of inexperience. Until then, it's back to #BoycottApple.
What's your thoughts?
By Jonny Polea
The following two tabs change content below.
I joined Beginners Tech as a Technical Journalist in July 2012 and have never looked back. I love tech, gadgets, games and electronics; whether they are retro, current or future concepts. My loving fiancé Sarah has said that when I receive new items for review I'm like a kid in a toy shop – unable to leave it alone for two minutes! Coming from a design background, I am passionate about the design and aesthetics of tech as well as functionality.
Latest posts by Jonny Polea (see all)