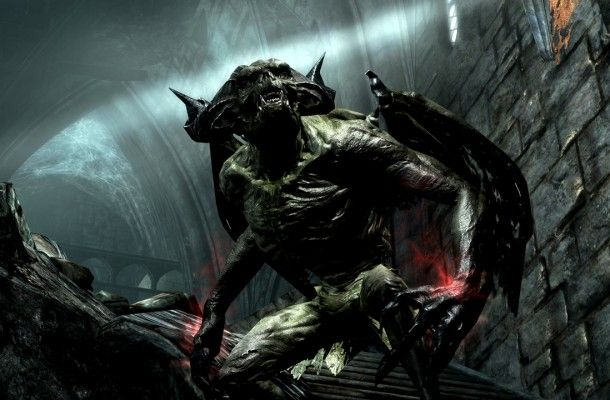 The wait for the highly anticipated Skyrim 1.7 patch will come to an end this week, on Xbox 360 and for select PS3 users. We've heard that Bethesda are planning to drop the update later this week, but bizarrely, PS3 users in Europe are being made to wait for another soul destroying week.
As we told you in a previous article here, the Skyrim 1.7 patch is already live on PC and by the looks of things, missed out on a few requested fixes. To give you a wee reminder of what is to be sorted, expect to see a fix to water shading crashes, fixes for dragon landing crashes and some general stability improvements.
There's also a few Xbox 360 specific fixes coming in patch 1.7 and that includes using dragon shouts when playing the game with Kinect support. If you have not had the chance to watch the clip of this on your 360, do so now. It got us all excited here at BeginnersTech.
Bethesda's Pete Hines made the announcement on Twitter that the 1.7 patch would be hitting the 360 and PS3 users on Thursday.
The kicker is that it is only going to be out for US PS3r's, leaving European owners in the dark with no further explanation. This is obviously going to be seen as another swift one to the junk for European Skyrimers who have not only been waiting for this patch to be unleashed, but also the delayed Dawnguard DLC expansion as well.
If you live in the US, you'll be a happy chappy, as you will still be able to enjoy the Thursday release.
By Jonny Polea
Hit us up on facebook and Twitter if your in the EU and are frustrated by this latest disappointment? Hopefully Bethesda will offer an explanation soon, just like they did with the Dawnguard wait on PS3.
Source – Gamerant
The following two tabs change content below.
I joined Beginners Tech as a Technical Journalist in July 2012 and have never looked back. I love tech, gadgets, games and electronics; whether they are retro, current or future concepts. My loving fiancé Sarah has said that when I receive new items for review I'm like a kid in a toy shop – unable to leave it alone for two minutes! Coming from a design background, I am passionate about the design and aesthetics of tech as well as functionality.
Latest posts by Jonny Polea (see all)